XYZLIFT- The lifts are suitable for both residential and commercial projects, as well as indoor and outdoor use, suit every requirement and application
XYZLIFT is a dedicated manufacturer specializing in hydraulic home lifts. Our lifts are designed to be installed in various settings, including villas and offices, providing convenient access between different floors. We understand the importance of integrating the design of our home lifts with the unique style of your property.
One of the key features of our home lifts is their versatility in design. We offer a range of options, allowing customers to select home lifts in different colors to match their preferred aesthetic. This customization ensures that the home lift seamlessly blends into the overall design of your home.
Safety is our top priority at XYZLIFT. Our home lifts comply with EN81-41 safety standards, providing reliable and secure operation. In the event of a malfunction where the landing door cannot be opened during lift operation, our home lifts are equipped with self-locking mechanisms, emergency stop and call buttons, as well as emergency leveling, ensuring the safety of passengers.
At XYZLIFT, we are committed to providing professional home lift design solutions. Our team of experts will work closely with you to understand your specific requirements and offer personalized design proposals that meet your needs.
According to the different accessories of the home lift, the products can be divided into the following categories. The more accessories, the higher the cost.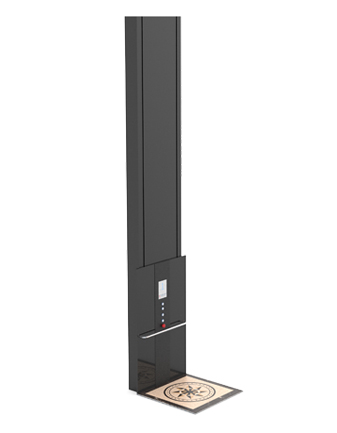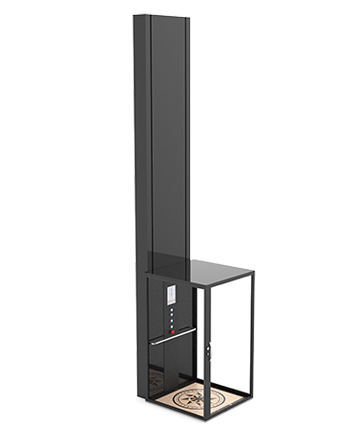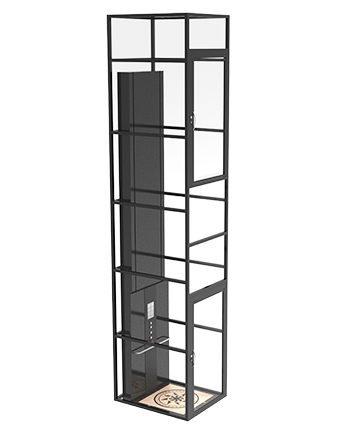 Platform with Shaft frame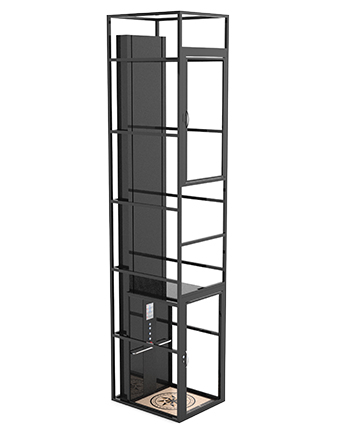 Home Lift Standard Specifications
| | |
| --- | --- |
| Compliance Standard | European Machinery Directive 2006/42/EC and European Normative EN81-41 |
| Max load capacity (kg) | 400 |
| Max travel (m) | 15 |
| Max number of stops | 5 |
| Max platform size(m) | 1200*1200 |
| Rated speed m/s | 0.2 |
| Entrances | 1,2,3 |
| Landing doors | Manual swing door, automatic single/double opening door for option, suitable for different installation sites and budgets |
| Car doors | With light curtain,not car door |
| Door opening (mm) | 500 – 1200 |
| Control | COP and HOP. Design according to customer |
| Power Supply | According to cusomer local voltage |
| Frame | Rucksack |
| Pit Depth (mm) | No pit or 150mm pit |
Major Components for Home Lift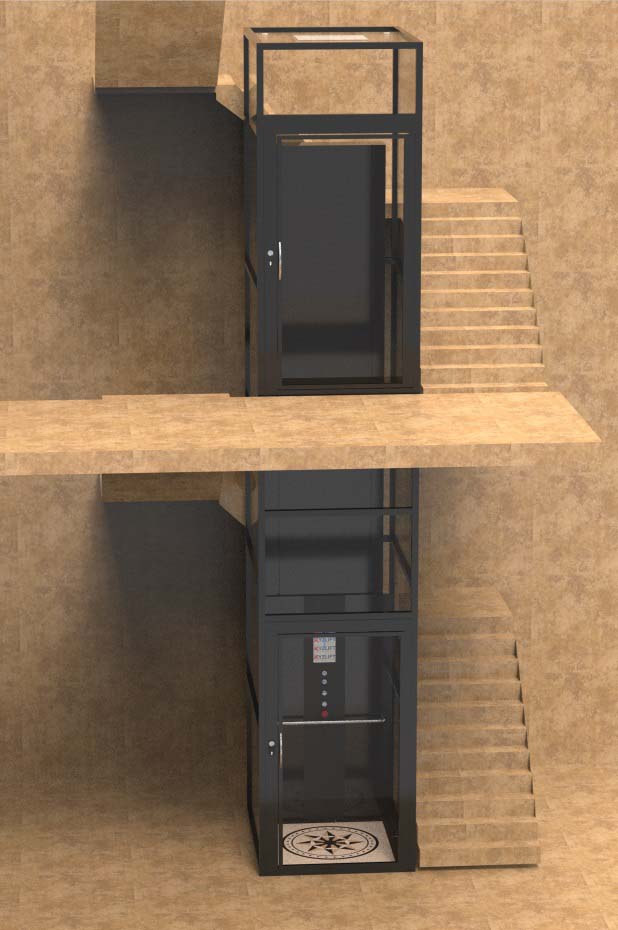 1
Lift Machine
1 of 5
2
Aluminum shaft frame
2 of 5
3
Car
3 of 5
4
Control System
4 of 5
5
Door
5 of 5
XYZLift offers a home lift with an aluminum shaft frame and landing door, available in a range of attractive colors. You can choose from the following color options to complement your home decor:
Black
Redwood grain
Rose Gold
Champagne Gold
Porcelain Swimming Gold
White
Gray
With these color choices, you can customize your home lift to seamlessly blend with the aesthetic of your surroundings
XYZLift offers a versatile range of options for the home lift car. You can choose between a stainless steel car or a glass car, depending on your preference and design requirements. 
Additionally, the home lift car provides various options for the style of the car's ceiling and flooring. This flexibility allows you to customize the lift car to match your desired aesthetic, ensuring a seamless integration with your home decor. Whether you prefer the sleek and modern look of stainless steel or the elegant transparency of glass, XYZLift has the perfect solution for your home lift car.
Home Lift Standard Safety Features
Hydraulic Home Lift With Multiple Fall Protection
XYZLift's hydraulic home lift is equipped with four high-strength steel wire ropes, each capable of supporting a minimum load of 3000kg.
XYZLift incorporates a speed-limiting plunger explosion-proof oil cylinder in our hydraulic home lift system. This essential safety feature is designed to regulate the lift's speed, ensuring controlled and safe operation. 
Home lift is equipped with a safety gear device. In the event that the home lift's speed exceeds the limit speed or if there is a rope breakage or slackening, the safety gear device engages. It swiftly brings the lift car to an emergency stop and securely clamps it onto the guide rails, providing effective protection for the lift's operation.

Home lift motor is equipped with an overflow valve, serving as a crucial safety feature to prevent excessive pressure during operation. This overflow valve plays a vital role in protecting against overloading.
5. Home lift is equipped with a UPS power system, ensuring uninterrupted operation during power outages. In the event of a power failure, the UPS automatically provides backup power supply, allowing the lift to continue functioning seamlessly.
6. Home lift is equipped with an emergency stop button, allowing passengers to halt the lift's operation in case of an emergency.
7. Home lift features an under-platform safety panel that serves as a crucial safety measure. When the home lift encounters an obstacle while descending, the system automatically stops the downward movement, preventing any unexpected accidents
8. The lift car and electric box of  home lift can be optionally equipped with a dedicated intercom system, allowing for one-touch emergency communication.
9. Our home lift equipped with a safety light curtain.The light curtain is a cutting-edge safety device that uses beams of light to detect any obstructions. If any beam is blocked, the control system immediately signals the doors to open and stops the lift's movement, ensuring a safe and secure experience for you and your loved ones.
10. Home lift landing doors with a safety lock mechanism to ensure secure lift operation. These doors remain locked while the lift is in motion, preventing unauthorized access or accidental openings. Upon reaching the desired floor level, only the corresponding landing door open, enabling safe passenger entry and exit. This controlled access system enhances safety and prevents risks or disruptions by restricting the opening of landing doors on other floors.
11. We utilize Omron limit switches in our home lifts, ensuring accurate and reliable floor-level detection. We incorporate an additional final limit switch at the top floor as an extra safety precaution.
12. When the home lift reaches the desired floor level and passengers enter or exit the lift, the landing door automatically closed to provide a safe and secure environment. This automatic door closer simplifies the operation of the lift and ensures peace of mind for users, knowing that the door is securely closed when needed.
Different Home Lift Install Site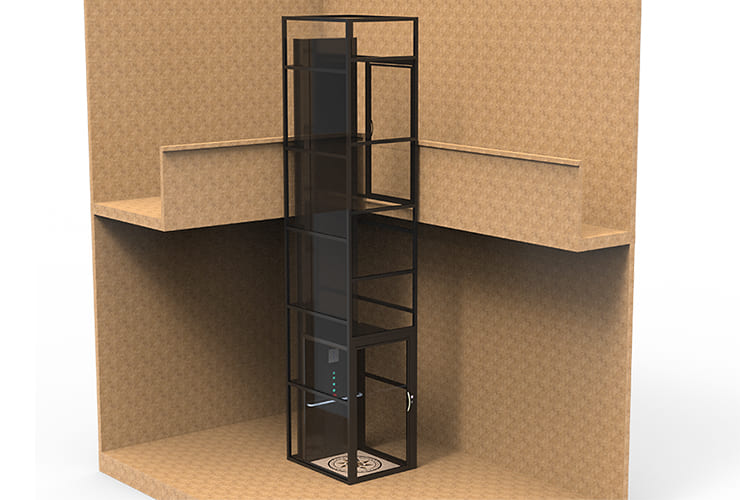 Not found what you are looking for?
If you encounter any problems while using our home lift, our experienced after-sales team will assist you in resolving them quickly.
Most Frequently Questions.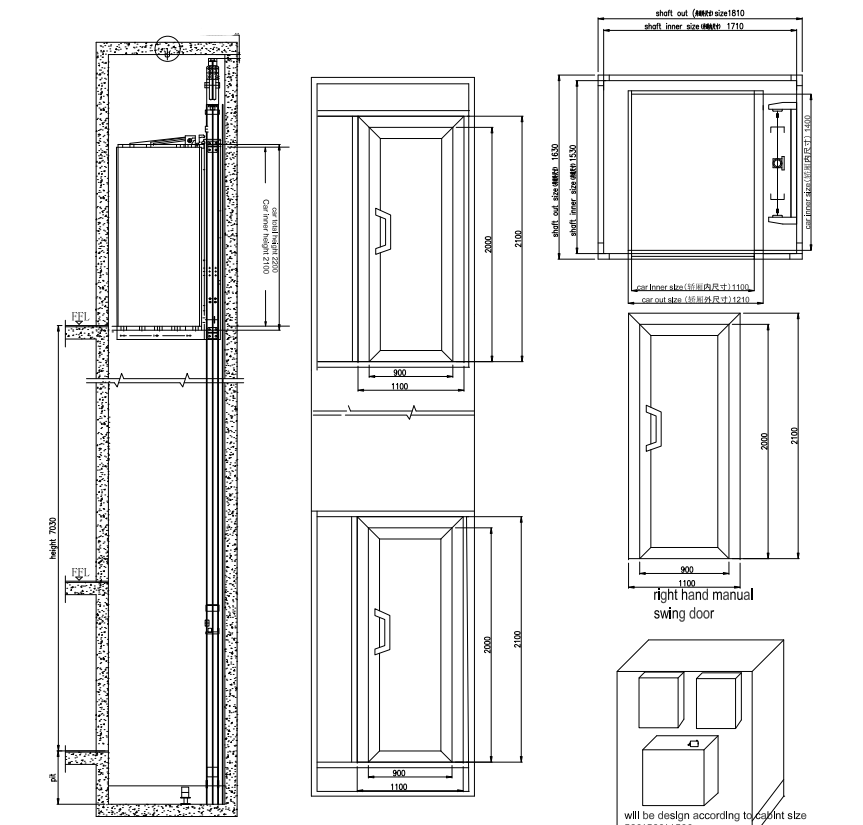 Custom Lifts That Suits Your Need
You will get accurate lift solution in 8 hours. Please supply main information as follows