Underground Car Garage Elevator
 Maximize the Efficiency of Your Parking Garage
Types of Car Garage Elevator
Optimizing the parking needs of most customers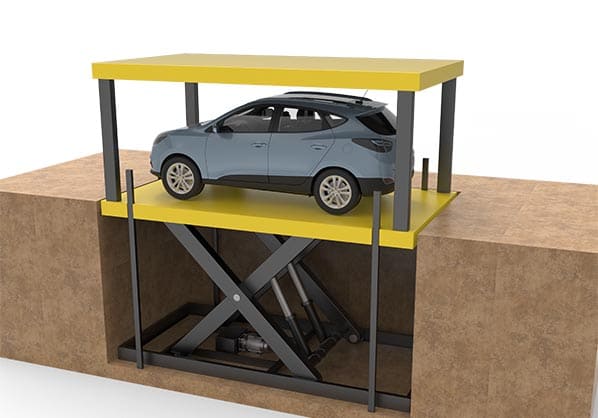 Designed specifically for indoor use with limited upper floor height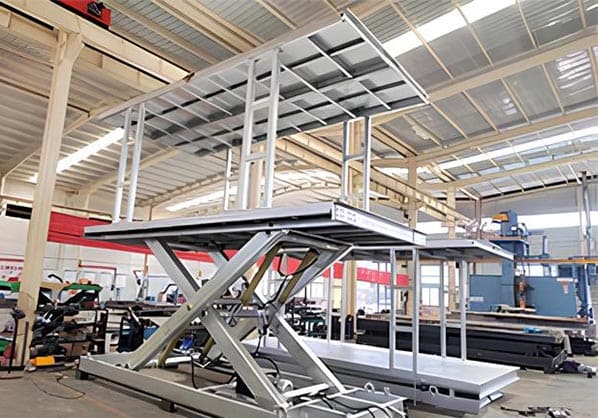 Perfect for outdoor parking in humid environments
Mode List of Car Garage Elevator
| Model | Load capacity | Lift height | Platform size |
| --- | --- | --- | --- |
| XYZSL-2.8 | 3000kg | 2800mm | 2500*5800mm |
| XYZSL-3 | 3000kg | 3000mm | 2500*6000mm |
| XYZSL-3.5 | 5000kg | 3500mm | 3000*6000mm |
| XYZSL-4 | 5000kg | 4000mm | 3000*6000mm |
Customize Your Car Garage Elevator
You have the freedom to customize your car garage elevator with us. We accept your unique specifications to match your needs.
Please supply Parameters as follows: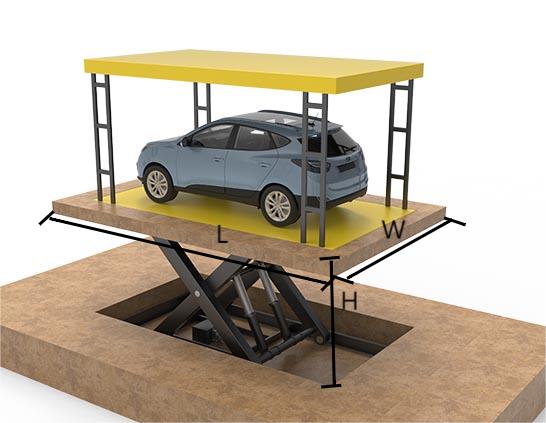 Your Major Components for Car Garage Elevator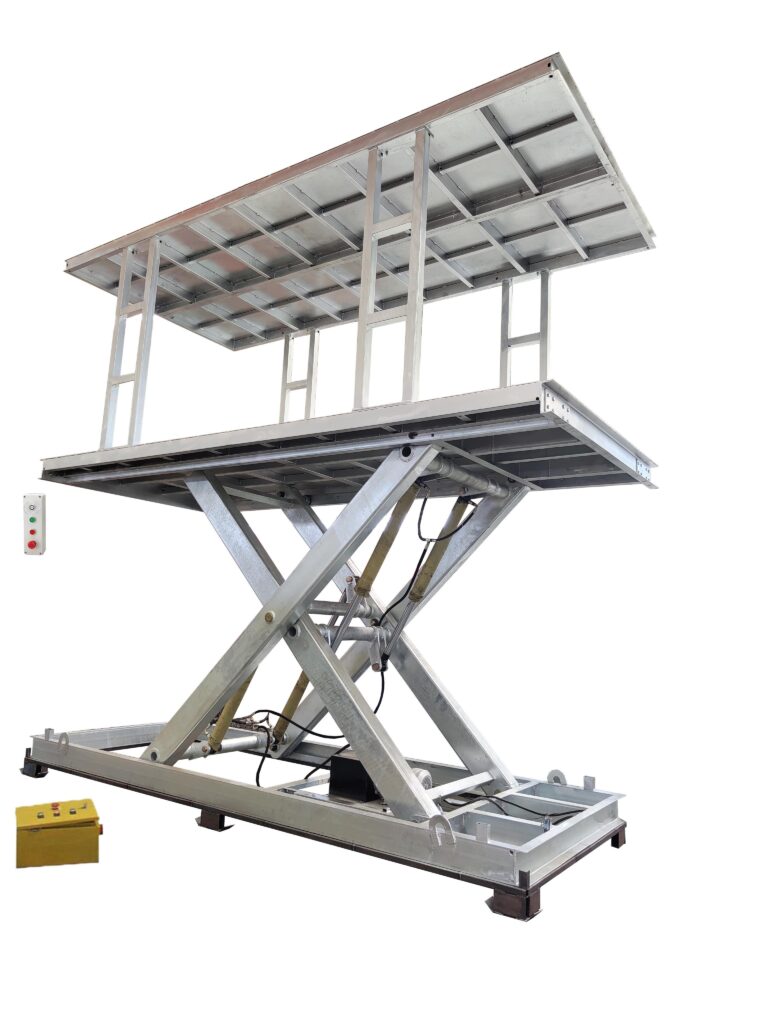 1
Platform
1 of 6
2
Scissors
2 of 6
3
Base frame
3 of 6
4
Hydraulic Pump
4 of 6
5
Hydraulic Cylinder
5 of 6
6
Control Box
6 of 6
Safety of Car Garage Elevator
Your underground car garage elevator complies with EN81-31 and ISO9001 standards. Trust in the quality and safety with us.
Overload Protection: Your underground car garage elevator comes with advanced overload protection. It detects and stops excessive weight, ensuring safe operation, and shielding both lift and vehicles from damage.
Emergency Descent Valve: Equipped with a trustworthy emergency descent valve, your underground car garage elevator ensures controlled and safe descent, even when power is compromised.
Hydraulic Cylinder with Explosion-Proof Valve: Safety first with your underground car garage elevator. Its hydraulic cylinder has a robust explosion-proof valve, preventing accidents from hydraulic oil leaks or explosions.
Pump Station with Protective Cover: Durability matters. Your underground car garage elevator features a protective cover for the pump station, adding defense against adverse weather and external forces.
Emergency Stop Button: Your underground car garage elevator features an easily accessible emergency stop button at each floor. Should a hazardous situation arise, a simple press ensures immediate halt, safeguarding personnel and preventing accidents.

Final Limit Switch: For precision and safety, your underground car garage elevator is equipped with a final limit switch. Strategically positioned, it serves as an extra safety layer, preventing overtraveling and ensuring exact positioning.

Voltage Protection Mechanisms: Power stability matters. Your underground car garage elevator includes voltage protection mechanisms to shield from power fluctuations and electrical issues, ensuring consistent performance and safety.

Key Switch for Power Supply Cutoff: Security made simple. Your underground car garage elevator has a key switch, allowing authorized users to cut off power and secure the equipment, preventing unauthorized operation.
Maintenance Support Bar: Your underground car garage elevator comes with a maintenance support bar for unbeatable stability during servicing. Say goodbye to unintended descents and work in a safe environment, thanks to this thoughtful feature.

Electric Toe Guard: Safety first! Your underground car garage elevator is fitted with an electric toe guard that instantly stops the lift if it encounters an obstacle. Experience peace of mind with this proactive safety feature.

Anti-Slip Platform Surface: With your underground car garage elevator, the anti-slip steel plate ensures secure traction, eliminating vehicle sliding during operations. Ideal for rainy days, this thoughtful design prioritizes both vehicle and personal safety.

Top Platform Edge: Need the perfect fit for floor holes or pit holes? Your underground car garage elevator can be customized with a small sloping edge that smoothly aligns with the floor or drainage channel edge, ensuring seamless integration.
How to Install Car Garage Elevator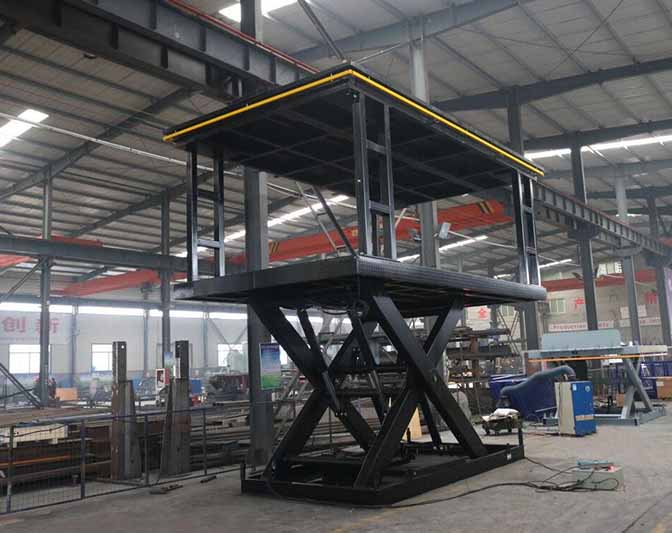 Free Assebmled of Double Deck Scissor Car Lift
XYZLIFT offers you an underground car garage elevator that's a breeze to install and a joy to use. Your lift arrives partially assembled, leaving only the top platform to put together. Once that's done, fit your underground car garage elevator into the pit, connect to power, and voila! Efficiency and reliability at your fingertips.
We get it – your time is precious. That's why your underground car garage elevator is crafted for effortless setup. Our team of experts assembles all components, except the top platform, to guarantee a top-notch product you can depend on. With XYZLIFT, trust that your underground car garage elevator will be operational and enhancing your space in no time.
If you encounter any problems while using our double deck scissor car lift, our experienced after-sales team will assist you in resolving them quickly.
Working Video of Car Elevator
Undergroud car garage elevator customer feedback video
Undergroud car garage elevator test before rust remove.
Two units galvanized undergroud car garage elevator for europe customer
Most Frequently Questions.
What we are thinking is all about your safty.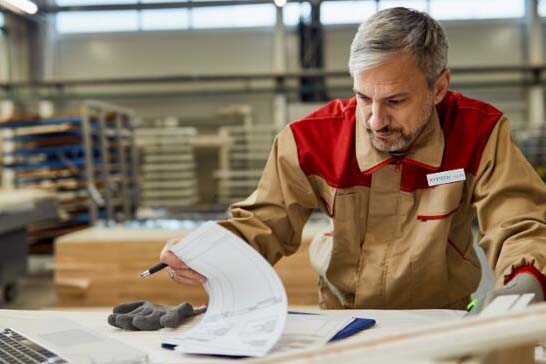 Unlock Value with Your Underground Car Garage Elevator
A Smart Investment for Convenience and Efficiency
One Car Lift Cost Include
Factors Influence Car Lift Price
Fluctuations in raw material prices
Complexity of features
Requirements for electrical components and motor brands
Fluctuations in freight charges
Exchange rate fluctuations
Galvanized
A Free Drainage Trough For Your Order
Why this special gift for you? It's simple. The drainage trough we're offering keeps rainwater from entering your elevator system, ensuring continuous protection.